Error Code 500 after rebooting Horizon Workspace
Error Code 500
- You may have seen this "Cannot display web page" error after rebooting your Horizon Workspace instance and attempting to login to the Gateway. You may also receive this error randomly after your Workspace has already been running fine for a few days. Related to this error, you may also see messages like
Application Manager encountered an error. Please contact customer service and provide the information displayed below.
An unexpected error occurred. If this error persists, please contact your administrator.
In either case, there are a few things to check.
1. Double check your time drift between vApps. Login to https:///cfg/system and under
System Information
 check your
Relative Drift
. Anything in yellow/red will need looking into.
The most common cause of time drift is one vApp on HostA, and another vApp on HostB. If the ESXi hosts aren't configured the same for NTP settings, you will need to configure that and make sure the NTP service is running.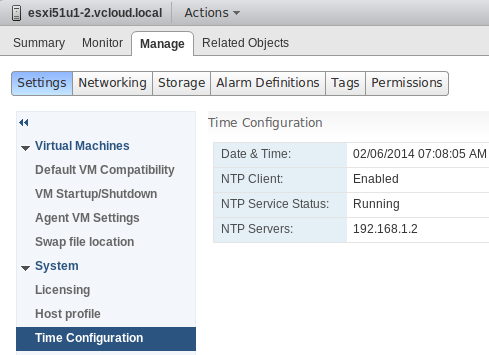 NOTE
: As soon as you join your Connector to your domain, it will start time syncing with your Domain Controller. If you have multiple Domain Controllers, ensure there are no time sync issues between DCs. Then ensure there aren't time issues between your DC the Connector is using, and the NTP Server your other vApps are using.
It may also be worth double checking you're logging in with a valid user. See 
http://kb.vmware.com/kb/2062056
for more information on
validating a user
.
2. Try SSH'ing into one of your vApps using
sshuser.
If you find an error stating
Your password has expired. Choose a new password.     WARNING: Your password has expired     You must change your password now and login again!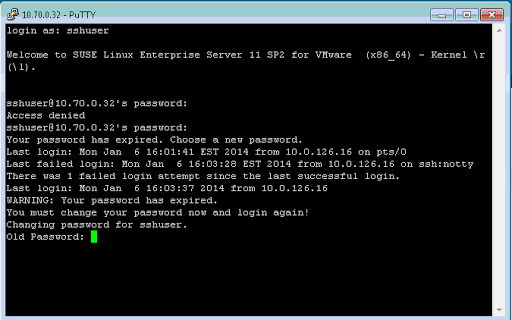 If this is the case, then you're running into a bug found in the GA release of Horizon Workspace 1.5.      You will need to review 
http://kb.vmware.com/kb/2059293
for resetting your password and
removing its expiration date. If this has been done already, it may have only been applied to the root      user and not
sshuser.
NOTE
: If your Workspace instance is currently version 1.5 build 1220937, as soon as you apply the workaround from
KB2059293
, there is no need to attempt an upgrade or re-deploy to get to build 1318295.
Good luck!